Greetings,
You'll find a copy of our latest newsletter here.
We're looking forward to June. Seeing as the sun is up longer, we're up a bit later: We're now open from Thursdays to Saturdays until 8PM. We've also got plenty of great books and great authors to go 'round. We hope you'll find the time to come by the shop this month to check out our sales and some of the planned performances, all of which are listed in the link. If you don't receive our newsletter, but would like to, send us an email: argobookshop [at] gmail [dot] com
_
Our Featured Publisher: Gaspereau Press

For a limited time, we'll be carrying selected titles from the prestigious Gaspereau Press, an award- winning Canadian literary publisher which employs an unusual mix of traditional and contemporary technologies to produce beautiful trade books. From editing, typesetting and production to sales and promotion, their hands-on approach carries through every aspect of a book's creation, resulting in a process which is as culturally enriching as the books it fosters. All this, and it's 100% Canadian!
Our selected titles include (click the title to view):
~ Robert Bringhurst's Selected Poems
~ Christopher Patton's Curious Masonry
~ Susan Gillis' Twenty Views of the Lachine Rapids
~ Bruce Johnson's Firmament
~ Tim Bowling's The Annotated Bee and Me
~ Monica Kidd's Handfuls of Bone
~ Peter Sanger's John Stokes' Horse
~ Jan Zwicky's Forge
~ Sean Howard's Incitements
~ Don McKay's The Shell of the Tortoise
~ Thomas Wharton's The Logogryph
~ Basma Kavanagh's Distillo
_
Book of the Month: George Orwell's 1984 – 20% off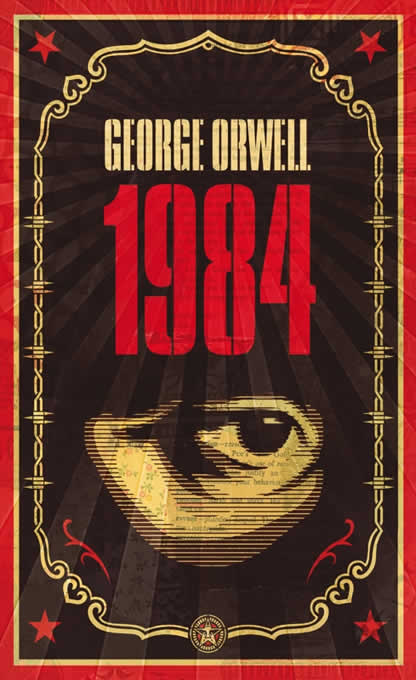 What better summer read than a chilling prophecy about the future? While 1984 may be one of those come-and-gone books for some, none can really doubt the timeliness of Orwell's narrative. 1984 presents a startling and haunting vision of the world, one that we can picture all too clearly from the 21st century with our own Electronic Police States, the collection of personal information online or our growing obsessions with one another's personal lives. It's a powerful novel in how it holds onto the imaginations of multiple generations of readers with its admonitions —a legacy that only seems to grow with the passage of time.
So kick back, drink a mojito, and enjoy some dystopian fiction.
_
Book of the Month Sale: Biographies, from 20-50% off
…And if dystopian literature is not something you'd consider for summer reading, consider the life and times of a favourite author, politician, wiseman, musician(s), civilized ruffian, violent libertine or upstanding humanitarian: Faulkner, Nabokov, Robertson Davies, Solzhenitsyn, Leonard Cohen, Walt Whitman, John Glassco, John Fante, Primo Levi, Martin Luther, Outkast, D.H. Lawrence, de Sade, Henry James, Oscar Wilde, Norman Bethune, Modest Mouse, Rilke, George Thackaray, Thoreau, Stephen Leacock, Confucius…the whole section is marked, from 20 to 50% off original price.
_
So, hope you're enjoying the summer. Here's Walt Whitman's Song of Myself, #21:
III, 21
I am the poet of the Body and I am the poet of the Soul,
The pleasures of heaven are with me and the pains of hell are with me,
The first I graft and increase upon myself, the latter I translate
into new tongue.
I am the poet of the woman the same as the man,
And I say it is as great to be a woman as to be a man,
And I say there is nothing greater than the mother of men.
I chant the chant of dilation or pride,
We have had ducking and deprecating about enough,
I show that size is only development.
Have you outstript the rest? are you the President?
It is a trifle, they will more than arrive there every one, and
still pass on.
I am he that walks with the tender and growing night,
I call to the earth and sea half-held by the night.
Press close bare-bosom'd night—press close magnetic nourishing night!
Night of south winds—night of the large few stars!
Still nodding night—mad naked summer night.
Smile O voluptuous cool-breath'd earth!
Earth of the slumbering and liquid trees!
Earth of departed sunset—earth of the mountains misty-topt!
Earth of the vitreous pour of the full moon just tinged with blue!
Earth of shine and dark mottling the tide of the river!
Earth of the limpid gray of clouds brighter and clearer for my sake!
Far-swooping elbow'd earth—rich apple-blossom'd earth!
Smile, for your lover comes.
Prodigal, you have given me love—therefore I to you give love!
O unspeakable passionate love.