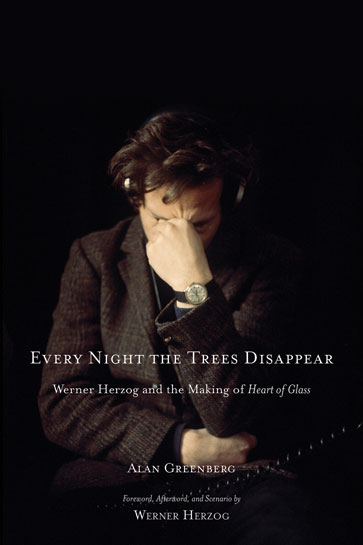 Every Night The Trees Disappear: Werner Herzog and the Making of Heart of  Glass by Alan Greenberg (Chicago Review Press, 2012. 208 pages. 27.95$)
Heart of Glass is one of the strangest feature films ever released. A hallucinatory Bavarian folktale about a crumbling glass-factory and a town descending into collective madness, it received mixed reviews upon release, which included accusations of stylistic frivolity and exploitation of acting personnel, charges not uncommonly laid upon the film's visionary director, Werner Herzog.
Like many other Herzog films, the bizarre backstory behind Heart of Glass became as notorious as the film itself, laden with a mystery and elusiveness all its own: it was said that the tonal peculiarities of the film were achieved through states of induced hypnosis, a process under which actors were guided by Herzog himself.
Alan Greenberg, long-time collaborator with Herzog and a famous and accomplished cineaste in his own right, worked with Herzog on the film, and illuminates in rich details some of the mysteries that have lurked within and behind this enigmatic film for years. However, Every Night The Trees Disappear is not a banal "making-of" of the film nor a piece of expository celebrity journalism, but an accomplished work of literature that mirrors and refracts, in a poetic and surrealistic manner, the peculiar spirit and dream-logic of the film in question.
Greenberg's book moves from his initial meetings with Herzog, which are populated with the serendipity and oddballs of his films, through to personal accounts of the film's strange and intuitive making (this does does disappoint) to a culminating scene near Skellig Rock in Ireland, where the film's nigh mystic post-scrip was filmed and Greenberg almost dies, all in the hope of capturing a few elusive shots. His accounts of the filming, which are so absorbing as to read like a novel, are interspersed chapter by chapter with Herzog's original scenario, which illustrates not only the evolution of the film, but how clearly Herzog had conceived of his vision for Heart of Glass before shooting even began. Greenberg shows that far from the superfluous experiment his detractors took it to be, the hypnosis was of central stylistic and thematic importance and served to dramatize how the films characters walk, in Herzog's words "straight into a foreseen and foretold disaster, almost like a community of sleepwalkers."
Herzog has spoken of an "ecstatic truth", which in so far as I understand it, is a kind of fluid poetic truth that transcends civic time and order, and hints at something akin to the inner monologue of our inner-most selves. Greenberg's book is a fitting homage to this ecstasy of truth, and should be of interest to any fan of the art of cinema seeking insight into the psyche and methods of one of its most visionary directors. In the words of David Lynch, "[Greenberg] magically depicts Werner's deep obsessions, total commitment, and creativity. He shows the way Werner goes about his work using both his mind and his hands. This is rare and spectacular. Alan Greenberg proves beautifully in this book that there will never again be a filmmaker even remotely like Werner Herzog." Highly recommended.
-Jesse