What a temperate August so far! At least now we don't have to lie in an ice bath or do roundabouts in air-conditioned cafes for a seat to relax with a book. Looking for suggestions, or readings to attend this month? You can either scroll down for news, or check out our newsletter for everything going on at the shop in the following link:Â Argo Bookshop Newsletter – August 2013

NEW & LATEST ARRIVALS
sorry, no pictures this time!
Spiritual Ecology: The Cry of the Earth: essays by Thich Nhat Hanh, Sandra Ingerman, Joanna Macy, Satish Kumar, Vandana Shiva, Fr. Richard Rohr, Bill Plotkin, Jules Cashford, Wendell Berry, and more
Book of the Month – 20% off :
American Childhood by Annie Dillard
"Dillard's luminous prose painlessly captures the pain of growing up in this wonderful evocation of childhood. Her memoir is partly a hymn to Pittsburgh, where orange streetcars ran on Penn Avenue in 1953 when she was eight, and where the Pirates were always in the cellar. Dillard's mother, an unstoppable force, had energies too vast for the bridge games and household chores that stymied her. Her father made low-budget horror movies, loved Dixieland jazz, told endless jokes and sight-gags and took lonesome river trips down to New Orleans to get away. From this slightly odd couple, Dillard acquired her love of nature and taut sensitivity. The events of childhood often loom larger than life; the magic of Dillard's writing is that she sets down typical childhood happenings with their original immediacy and force." — Publishers Weekly
Annie Dillard (born April 30, 1945) is an American author, best known for her narrative prose in both fiction and non-fiction. She has published works of poetry, essays, prose, and literary criticism, as well as two novels and one memoir. Her 1974 work Pilgrim at Tinker Creek won the 1975 Pulitzer Prize for General Nonfiction.
EVENTS FOR THE MONTH OF AUGUST
#1
 May Q. Wong launches
A Cowherd in Paradise: From China to Canada
Sunday, August 11th
Doors at 6PM, Event at 6:30PM
@ Argo Bookshop
 
Wong Guey Dang (1902-1983), a Montreal restaurateur, and Jiang Tew Thloo (1911-2002) were married for over half a century, but were forced to live apart for twenty-five years because of Canada's exclusionary immigration laws. In China, Ah Thloo struggled to survive natural disasters, wars, and revolutions; while in Canada, Ah Dang overcame discrimination to become a successful restaurateur. Set against the backdrop of China's turbulent march toward becoming an economic leader, A Cowherd in Paradise is the moving tale of one couple's search for love, family, and forgiveness.
Born of Chinese immigrants impacted by Canada's head tax laws and raised in the diversity of Montreal's "Main," May Q. Wong was educated at McGill, the University of Guelph, and the University of Victoria. Her 17-year career in the British Columbia Public Service and various long-time volunteer activities centred on improving the lives of those in need. Retired since 2004, May now travels with her husband and writes about the people they have met and the places they have been. This is May's first book.
#2
Jeffrey Luscombe reads from his debut novel, Shirts and Skins
Saturday, August 17th, 7PM
@ Argo Bookshop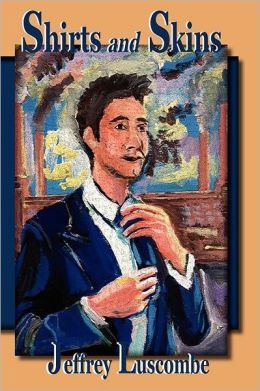 "Josh Moore lives with his family on the 'wrong side' of Hamilton, a gritty industrial city in southwestern Ontario. As a young boy, Josh plots an escape for a better life far from the steel mills that lined the bay. But fate has other plans and Josh discovers his adult life in Toronto is just as fraught with as many insecurities and missteps as his youth and he soon learns that no matter how far away he might run, he will never be able to leave his hometown behind." — Chelsea Station Editions
 Jeffrey Luscombe was born in Hamilton, Ontario Canada. He has had fiction published in Chelsea Station, Tupperware Sandpiper, Zeugma Literary Journal, and filling Station Magazine. In 2010 he was shortlisted for the Prism International Fiction Prize. He was a contributor to the anthology Truth or Dare (Slash Books Inc. 2011). He lives in Toronto with his husband Sean.
#3
Argo Featured Reading #20
Caroline Clark & Kelly Norah Drukker
Thursday, August 22nd: Doors @ 7:30PM, Reading @ 8PM
@ Argo Bookshop
On Thursday, August 22nd, the Argo will be hosting its 20th Featured Reading with Caroline Clark, author of the book of poetry Saying Yes in Russian (Agenda Editions 2012), and poet Kelly Norah Drukker.
Caroline Clark was born in Lewes, East Sussex. Her poems and essays have appeared in magazines like Poetry Review, Agenda, The North, PN Review, The Reader, The Frogmore Papers and Smiths Knoll. She lived in Moscow for eight years, and now lives in Montreal, Canada. Clark spent a number of years living in Russia and the poems in her collection smack of regional authenticity, from the oft-mentioned refuse, signs of encroached capitalism and its' whirlwind of public transportation, to the country's more eminent place in world history; her poem's idea of the 'Red Square' is "Rigged by four masts to the center of the globe". The Russian language is also central to this collection, if not the basics difficulties we all share with language; the importance of understanding can cause divisions between cultures, and extend to divisions within the self.
Kelly Norah Drukker was born in Montreal and grew up in the Laurentian region of Quebec.  Her work has appeared in an increasing list of publications, from The Malahat Review to enRoute magazine.  In 2006, her set of long poems "Still Lives" won second prize in the CBC Literary Awards, and an abridged version was aired on CBC Radio's Between the Covers.  Most recently, her poetry won second prize in the Norma Epstein Foundation's 2013 National Literary Contest.  Her work has been featured on CBC Radio's Cinque à Six, CJAD's The Irish Show, and CKUT's JPM Literary Report.  Kelly recently completed her MA in English and Creative Writing at Concordia University, and is at work on her first collection of poems.
#4
Elwin Cotman presents Hard Times Blues
Monday, August 19th
Doors@ 7PM, Reading @ 7:30PM
 
Zombies, elves, hobos, Martians, and dragons; musical ghosts and sorcerous retail managers wreak havoc in Hard Times Blues, another trip through the dreamlands, courtesy of Elwin Cotman. These five lyrical and satirical fables look at the lives of the dispossessed through a fabulist lens. Drawing inspiration from the Gothic, the pulps, rock'n'roll, the Book of Revelations, and anime (among other genres), Cotman continues to redraw the map of the American fantastic.
His first book, The Jack Daniels Sessions EP, was nominated for two Carl Brandon Society awards, receiving praise from authors such as Karen Russell and Laura Kasischke. His fiction and articles have been published in The Dirty Napkin, the 2011 Interdisciplinary Writers Lab anthology, Cabinet des Fees, Weird Fiction Review, The Southwestern Review, and are forthcoming in Conversations at the Wartime Cafe Vol. 2. His performance art has been featured in the 2012 Low Lives Performance Festival.
You can check out a video from his performances here.
#5
Argo Open Mic #20
Tuesday, August 27th
Doors@ 7PM, Reading @ 7:30PM
 
 It's our twentieth Open Mic and counting!
Last time we were packed from wall to wall, so we'll try our best to accommodate the increasing amount of participants! It's great to see so many people bring their music, poetry, prose and anecdotes to our Open Mic.
Montrealers, come read some of your work for 5 to 10 minutes. For those of you who might not know : Every month, the Argo Bookshop hosts this open venue for people to share their writing, music, articles and comedy. Bring your friends and enjoy the evening!