Happy October, everyone!
Now that the textbook season has calmed down, we're now resuming our monthly events. A lot of great stuff is planned for this month, both in and out of the shop. But before we get to those announcements, here's a list of the new and latest arrivals of the shop as of late. Click the title of a book to view information on or a review of that title, or just search for them in our catalogue (recommended for price checks):
…Didn't see anything you would find interesting? You can find more in this month's newsletter:Â Argo Bookshop Newsletter – October 2013
Book of the Month – 20% off :
The Sound of Things Falling by Juan Gabriel Vásquez
The Sound of Things Falling follows a young law professor named Antonio Yammara and his fateful encounter with Ricardo Laverde, a retired pilot from Columbia's bygone days of Pablo Escobar. One afternoon, after Laverde receives a mysterious cassette, he is shot on a Bogotá street corner alongside Yammara. Traumitized by a bullet that did not carry his name, Yammara decides to investigate Laverde's past, taking him through the precarious combined history of Columbia's Peace Corps volunteers, Nixon's War on Drugs, and the ill-fated smugglers of marijuana and cocaine thrown in between.
The book's prose is illuminatingly descriptive, coupled with consistently dark and foreboding tones. Attention to detail both historical and interpersonal will keep a reader engaged, if not Vasquez's ability to unearth truisms from the seemingly absurd.
Born in Bogotá in 1973, Juan Gabriel Vásquez is an author whose work is considered reactive to the magical realism of authors like Marquez. When asked about another novel of his, The Secret History of Costaguana: "I want to forget this absurd rhetoric of Latin America as a magical or marvellous continent," he says, preferring "the violence and cruelty of our history and of our politics."
BOOK CLUB UPDATE
Our next read is The One-Straw Revolution: An Introduction to Natural Farming by Masanobu Fukuoka:
"Masanobu Fukuoka's manifesto about farming, eating, and the limits of human knowledge presents a radical challenge to the global systems we rely on for our food. At the same time, it is a spiritual memoir of a man whose innovative system of cultivating the earth reflects a deep faith in the wholeness and balance of the natural world. As Wendell Berry writes in his preface, the book "is valuable to us because it is at once practical and philosophical. It is an inspiring, necessary book about agriculture because it is not just about agriculture." Trained as a scientist, Fukuoka rejected both modern agribusiness and centuries of agricultural lore. Over the next three decades he perfected his so-called "do-nothing" technique: commonsense (sic), sustainable practices that all but eliminate the use of pesticides, fertilizer, tillage, and perhaps most significantly, wasteful effort." – NYRB
On October 31st, we'll get together to discuss the book over some drinks. Everyone's welcome, and anyone partaking receives a 15% discount off the book. The meeting after this month's will be postponed until January 2014. If you would like to join in for our monthly discussions, send an email in order to receive regular updates.
EVENTS FOR THE MONTH OF OCTOBER
#1
Atwater Poetry Project Reading with Steven Price and Sarah Burgoyne
Thursday, October 3rd @ 7PM
Atwater Library – 1200 Atwater Ave.
Come and enjoy the inaugural reading of this season's Atwater Poetry Project. We're happy to present Steven Price and Sarah Burgoyne.
Steven Price is one of the most respected poets of his generation in Canada. His work has been translated and well-received internationally. Steven's first book, Anatomy of Keys (Brick Books, 2006), won the Gerald Lambert Award for best first book in this country. He subsequently published a novel, Into That Darkness (Thomas Allen, 2011). Omens in the Year of the Ox (Brick Books, 2012) is his second poetry collection. Steven Price currently lives and teaches in Victoria B.C.
Sarah Burgoyne is a Montreal poet. Her work has been published in Bodega, LAKE magazine, and on Stuart Ross's blog "The Week Shall Inherit the Verse". Sarah's chapbook, Happy Dog Sad Dog, is forthcoming with Proper Tales Press in November.
As always, wine and conversation will be available.
#2
Writers Read at Concordia & The School of Canadian Irish Studies Presents:
Emma Donoghue
Thursday, October 10th @ 7PM
Room H-767, 1455 De Maisonneuve Blvd. W.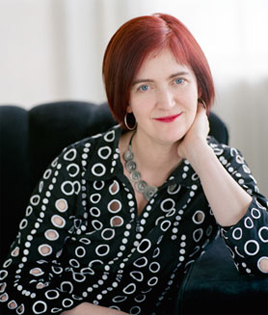 Open to the public: Emma Donoghue's bestselling 2010 novel Room was shortlisted for the Man Booked Prize, and won a number of other awards, including the Hughes & Hughes Irish Novel of the Year. Her most recent book is Astray, a sequence of fourteen fact-inspired short fictions published in 2012. We recommend you check out Emma Donoghue's website for all things Emma Donoghue. Want information on more upcoming readings with Writers Read at Concordia? You can either scroll down for another listing of an event, or check out their website!
#3
The BBAM! Storytelling Slam
(hosted by Argo Bookshop & The Word Bookstore)
BBAM! Gallery: 3255 St. Jacques
Sunday, Oct. 13th from 3PM to 4:30PM
Come listen to some true stories told live at the BBAM! Gallery in St. Henri! For those who are not familiar with it, The BBAM! Gallery is a charming and intimate venue on St. Jacques less than a block away from Lionel-Groulx metro.
This first installment of our storytelling series will feature performance literature innovator Ian Ferrier, veteran Montreal storyteller Gerard Harris and BBAM!'s own Ralph Alfonso, as well as talented writers and performers like Joel Asa Miller, Keith Waterfield, and Stephanie Noel. This month's theme is 'a golden opportunity' and our storytellers will tackle the topic with a wide variety of autobiographical yarns. Audience members will be asked to judge the readers and prizes will be given to the top scores!
Think you'd like to participate in this or future storytelling slams? Send us an email!
#4
(Argo Featured Reading #21)
A BookThug Dual Montreal Launch with Sandra Ridley & Michael Blouin
Thursday, October 24th @ 7PM
(located at the Argo: 1915 Ste. Catherine West)
BookThug (www.bookthug.ca), the Toronto-based publisher of innovative literature, and Argo Bookshop present a dual launch of poetry (The Counting House) by Sandra Ridley and prose (I Don't Know How to Behave) by Michael Blouin.
Sandra Ridley's first full-length collection of poetry, Fallout, won the 2010 Saskatchewan Book Award for Publishing, the Alfred G. Bailey Prize, and was a finalist for the Ottawa Book Award. Her second book, Post-Apothecary, was short-listed for the 2012 ReLit and Archibald Lampman Awards. Her new book is The Counting House (BookThug).
On her book of poetry: "Akin to a bookkeeper's accounting of what's given and taken in a fraught, uncertain exchange, The Counting House goes on to record the pageantry and pedantry of courtly affection gone awry. Symbols and origins of traditional rhymes involving kings and queens serve as inventory, alongside elements of Michel Foucault's Discipline and Punish and Simone de Beauvoir's The Second Sex. In forensic sequences of inquisition, scrutiny, and reckoning, Ridley reveals the maiden as muse as modern darling – unhoused and exacting – in 'all of her violet forms.'" – BookThug.ca
 
&
 
Michael Blouin is a ReLit Award winning author for Best Novel in Canada, has been shortlisted for the Amazon First Novel Award, the bpNichol Award and the CBC Literary Award and is a winner of the Diana Brebner Award and the 2012 Lampman Award. His latest novel is I Don't Know How to Behave (BookThug).
His new novel, I Don't Know How To Behave, "combines the true story of Canadian daredevil and stunt driver Ken Carter (1938-1983) with imagined biographical elements from the lives of Canadian film director Bruce McDonald and Canadian poet Gillian Sze. Along the way, this quintessential Canadian story (told in a manner that has never been attempted before!) crashes head first into many related things, from screenplay theory to hip hop history to the story of early Canadian film to drawings to photographs to bank robberies to chaos theory…"
#5
Writers Read at Concordia Presents:
 Tanya Tagaq, Christian Bök, & Jaap Blonk
Monday, October 28th @ 7PM
Room H-767, 1455 De Maisonneuve Blvd. W.
Tanya Tagaq
is a contemporary performance artist who uses the ancient traditional Inuit art of throat singing. She has released two critically acclaimed albums – 
Sinaa
 and 
Auk/Blood
 – both of which were nominated for Juno Awards.
Christian Bök is the author of Crystallography (Coach House 1994), a pataphysical encyclopedia nominated for the Gerald Lampert Memorial Award, and Eunoia (Coach House 2001), a bestselling work of experimental literature, which has gone on to win the Griffin Prize for Poetic Excellence.
Jaap Blonk is a self-taught composer, performer and poet from Holland. He has performed around the world, on all continents. With the use of live electronics the scope and range of his concerts has acquired a considerable extension. His book/CD "Traces of Speech" was published in 2012 by Hybriden-Verlag, Berlin.
#6
Argo Open Mic #21
Wednesday, October 30th @ 7PM
(Argo Bookshop)
Montrealers! Come read some of your work for 5 to 10 minutes at our Open Mic! For those of you who might not know : Every month, the Argo Bookshop hosts this open venue for people to share their writing, music, articles and comedy. Bring your friends and enjoy the evening! Make sure to come early to sign up and save yourself a spot!