Despite the sudden snowfalls here in Montreal, spring is apparently around the corner. That means the levy of spring releases and book launches will break, not entirely unlike the book spillage sculptures of Alicia Martin shown above. We have lots of new books to check out in the shop, as well as several excellent events to attend throughout the month. Read on for more info!
Want a copy of the April newsletter for offline browsing?
Argo Bookshop Newsletter – April 2014
Book of the Month: 20% off
Guillermo Rosale's
Leapfrog & Other Stories
"Leapfrog is a novella about a boy living in late-'50s post revolutionary Cuba. He read comic books and hangs around with the neighbourhood kids, yet there is an intense edginess here. Told in the same unrelenting style as (Rosales') The Halfway House, it is as if Rosales had transcribed all that he'd heard and said as a child into this one moving and very brutal look at lost childhood. Together with a few powerful short stories, we now have the final remnants of the Cuban writer's work." (New Directions)
"In the grotesquely comic world of Cuban writer Guillermo Rosales' collection… children are the original criminals and counter-culture outlaws. (As a friend of the scappy protagonist Agar asks,) 'Have you ever seen a being more diabolic than a child?'" (The Rumpus)
New & Latest Arrivals
Before laying out the list of everything that's arrived: For those of you who don't know, we just want to let fans of our shop as well as literary magazine appreciators know that the Montreal issue of CNQ, #89, is available in store. Full of excellent articles, poetry and interviews, this issue includes some great Argo Bookshop-related material to boot, such as a wonderfully loquacious interview with poet Peter Van Toorn by Argo co-owner Meaghan Acosta(!) and an article about our very own Open Mic series by Cory Lavender! Check it out for only $8.
Click the title of a book to view information on or a review of that title, or just search for them in our catalogue (recommended for price checks).
LITERATURE
POETRY
WOMEN'S STUDIES
PHILOSOPHY
TRAVEL
SCIENCE
KIDS
Baby Bear, Baby Bear, What Do You See? Board Book by Bill Martin and Eric Carle
Panda Bear, Panda Bear, What Do You See? by Bill Martin and Eric Carle
Book Club Update
Our next read is…
On Being Blue: A Philosophical Inquiry by William H. Gass.
"Of the colors, blue and green have the greatest emotional range. Sad reds and melancholy yellows are difficult to turn up. Among the ancient elements, blue occurs everywhere: in ice and water, in the flame as purely as in the flower, overhead and inside caves, covering fruit and oozing out of clay… Blue is therefore most suitable as the color of interior life. Whether slick light sharp high bright thin quick sour new and cool or low deep sweet dark soft slow smooth heavy old and warm: blue moves easily among them all, and all profoundly qualify our states of feeling."
(NYRB)
"Gass is a philosopher-voluptuary, someone who romances language with a roué's cunning, and isn't afraid to play with words and ideas for sheer sport." 
—Diane Ackerman
On May 30th, we'll get together to discuss the book over some drinks. Everyone's welcome, and anyone partaking receives a 15% discount off the book.
April's Events
#1
A Reading by Leah Umansky


@ Argo Bookshop
Saturday, April 12th
Doors at 7PM, Reading at 7:30PM
For those of you who had hoped to see Leah Umansky back in November 2013, a new reading date has been confirmed for April 12th, 2014! It'll be her first reading in Montreal. Named #7 of 23 People Who Will Make You Care About Poetry by Flavorwire in 2013, Leah Umansky is the author of the Mad-Men inspired chapbook, Don Dreams and I Dream (Kattywompus Press, 2014) and the full length collection, Domestic Uncertainties (BlazeVOX, 2013). She has been a contributing writer to BOMB Magazine's BOMBLOG , Luna Luna Magazine, The Rumpus and Tin House, and live tweets occasionally for the Best American Poetry Blog. She also hosts and curates the COUPLET Reading Series in NYC. Her poems have appeared or are forthcoming in POETRY, The Poetry Review, Barrow Street and The Brooklyn Rail among others. You can visit her website here: www.leahumansky.com
#2
I LIVE I SEE: The Poetry of Vsevolod Nekrasov
Presented by translators Ainsley Morse and Bela Shayevich
Saturday, April 19th
@ Argo Bookshop
Doors at 7PM, Reading at 7:30PM


I Live I See: Selected Poems presents a comprehensive survey of the work of Vsevolod Nekrasov (1934-1999), the Soviet literary underground's foremost minimalist. This is the first collection of Nekrasov's work in English translation. The book's translators Ainsley Morse and Bela Shayevich will be presenting.
"Exploring urban, rural, and purely linguistic environs with an economy of lyrical means and a dark sense of humor, Nekrasov's groundbreaking early poems rupture the stultified language of Soviet cliché while his later work tackles the excesses of the new Russian order. I Live I See is a testament to Nekrasov's lifelong conviction that art can not only withstand, but undermine oppression." (Ugly Duckling Presse)
#3
Gaspereau Press Presents:
Gillian Sze launches Peeling Rambutan with Jason Camlot
Wednesday, April 23rd @ 7PM
@ Argo Bookshop
Argo Bookshop will be hosting author Gillian Sze's launch of her latest work Peeling Rambutan (Gaspereau Press 2014) with poet Jason Camlot, who will read from his latest book What the World Said (Mansfield Press 2013).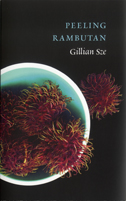 "A poetic travelogue, Gillian Sze's Peeling Rambutan meditates upon the rifts between immigrant parents and their Canadian-born children and the struggle of overlapping values which sometimes arises when we view the complexity of our heritage through the lens of the present. Rooted in Sze's first experience of Asia, these poems mingle the familiar spaces of her childhood home in Winnipeg with impressions of the distant villages of her parents' origins. The result is a complex exploration of the relationship between identity, place, and history." (from Gaspereau Press)
Jason Camlot's fourth full poetry collection, a Kaddish for the post-google age, explores the meaning of ignorance in the face of death—ignorance of how to practice sadness and rituals of mourning, and of how properly to experience longing and loss. Camlot manipulates a wide range of forms to mine the relationship between the most intimate kinds of grief and the impersonal flood of discourse that the world pours upon us. (from Mansfield Press)
#4

Argo Open Mic #26
Wednesday, April 30th
@ Argo Bookshop
Doors at 7PM, Reading at 7:30PM
Montrealers! Come read some of your work for 5 to 10 minutes at our Open Mic! For those of you who might not know: Every month, the Argo Bookshop hosts this open venue for people to share their writing, music, articles and comedy. Bring your friends and enjoy the evening! Make sure to come early to sign up and save yourself a spot!