April need not always be the cruellest month: It's National Poetry Month, so we're bringing back our celebratory deal where all Canadian and international poetry titles are 20% off. Enjoy! 
A quick synopsis of the newsletter: April's book of the month is Guillaume Morissette's New Tab from the Montreal publisher Vehicule Press, which was recently shortlisted for the Amazon First Novel Award! As for events (click on the links for the Facebook events), we've got a great line-up we hope you'll check out. First (April 9th) we'll be hosting scholar Brooke Jeffrey's presentation of her book Dismantling Canada: Stephen Harper's New Conservative Agenda, a book that "explores Harper's successes and failures, and evaluates the likely outcome of his long-term agenda to change Canada into a country most Canadians would not recognize" (McGill-Queens University Press). Second (April 20th), the Governor General award-winning playwright Erin Shields will be reading from her latest play Soliciting Temptation. Finally, our open mic session is on the 29th of the month.
& don't forget: We've got a regular discount of 15% off offered to any and all book clubs and book club members.
Want a copy of the newsletter sent directly to your email each month?
Book of the Month: 20% off
New Tab by Guillaume Morissette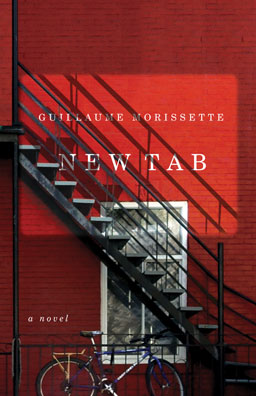 Set in Montreal, New Tab spans a year in the life of a twenty-six year old videogame designer as he attempts to reset his life, in the process chronicling with humour disillusion, boredom, self-destruction, Facebook chats, Concordia University, bilingualism, good parties, bad parties, a backyard cinema, social anxiety and running a possibly illegal DIY venue.
Guillaume Morissette is the author of the collection of stories & poems I Am My Own Betrayal(Maison Kasini, 2012) and the novel New Tab (Vehicule Press, 2014). His work has appeared inMaisonneuve Magazine, HTMLGIANT, Carte-Blanche, Little Brother Magazine, Metazen, Thought Catalog and many other publications. (Vehicule Press)
"(I) found it both hilarious and sincere. His comedic side comes out in lines like, "Internet porn didn't judge me" and, "name a time of the day and I have eaten cereal at it."  Self-reflection scatters the book between the protagonist's sexual failures, social anxieties, and workplace depression in the form of status updates. New Tab is a narrative of self-transformation within the everyday life of a twenty-something (pushing thirty-something) Quebecker." New Tab "is lucid and sympathetic, and manages to integrate actual social media habits as well as plot points based on actual Montreal trends into a text which functions believably as a site for character interactions and development." (from Jason Freure @ The Town Crier, "Morissette: Broke and Precariously Housed")

New & Latest Arrivals
Featured Montreal-based publisher arrivals this month include selections from DC Books and Metatron Press! Read on for more info. You'll find a list of our most recent arrivals in the shop below. Click the title of a book to view information on or a review of that title, or just search for them in our catalogue (recommended for price checks).
LITERATURE, POETRY, CRITICISM
Beyond Remembering: The Collected Poems of Al Purdy
Last Makings: Poems by Earle Birney
Proof by Larissa Andrusyshyn
SOCIAL & POLITICAL SCIENCES
HISTORY
America and the Cold War, 1941-1991 [2 volumes]: A Realist Interpretation by Norman A. Graebner and Richard Dean Burns
Coalitions of Convenience: United States Military Interventions after the Cold War by Sarah E. Kreps
Events for the Month of April
#1
Brooke Jeffrey presents her latest book:
"Dismantling Canada: Stephen Harper's New Conservative Agenda"
Thursday, April 9th
Argo Bookshop
Doors @ 7PM, Reading @ 7:30PM
We're pleased to announce that author and professor Brooke Jeffrey will be in the shop on April 9th to discuss her book Dismantling Canada, which "explores Harper's successes and failures, and evaluates the likely outcome of his long-term agenda to change Canada into a country most Canadians would not recognize." The event is free.
"Stephen Harper is the first prime minister to represent the new Conservative Party, and the first to declare that his goals include nothing less than changing Canada by entrenching conservative values and replacing the Liberals as the country's natural governing party. After nine years of a closed-door governing style, his agenda is no longer hidden.
As Brooke Jeffrey outlines in compelling detail in Dismantling Canada, Harper's agenda is driven by a desire to impose order and tradition at home, and to take firm stands on emerging issues abroad. With only thirty-nine per cent of the popular vote in 2011, his government appears to have gone a surprisingly long way towards achieving those objectives, with little or no concerted public opposition. Illuminating the importance and influence of British and especially American right-wing conservatives on Harper's strategies, the book explains how he has achieved so much through a combination of stealth, pragmatism, and ruthless determination." (from McGill-Queen's University Press)
#2
Playwright Erin Shields reads from her latest play
SOLICITING TEMPTATION

Monday, April 20th
Argo Bookshop
Doors @ 7PM, Reading @ 7:30PM
"In a sweaty hotel room, a lonely businessman and a young woman meet for sex. Somewhere between reality and fantasy, the sex becomes talk and the talk becomes dangerous. Nothing is off limits in this battle of morality, economics and desire. This witty, dark and sexually charged new play by Governor General's Award–winner Erin Shields shines a light on the complexities of sex tourism and our preconceptions about love." (Playwrights of Canada)
Erin Shields is a Canadian stage actress and playwright of six plays. She is best known for her play If We Were Birds, which won the Governor General's Award for English-language drama at the 2011 Governor General's Awards, and was a nominee for the 2010 Dora Mavor Moore Award for Outstanding New Play.
#3
The Argo Open Mic! (#34)
Wednesday, April 29th
Argo Bookshop
Doors @ 7PM, Reading @ 7:30PM
Come to our open mic on the last Wednesday of April to read your poems, stories, anecdotes, songs and opinions! The crowd's always inviting, and spectators are always welcome. Emerging and established authors alike are encouraged to participate.